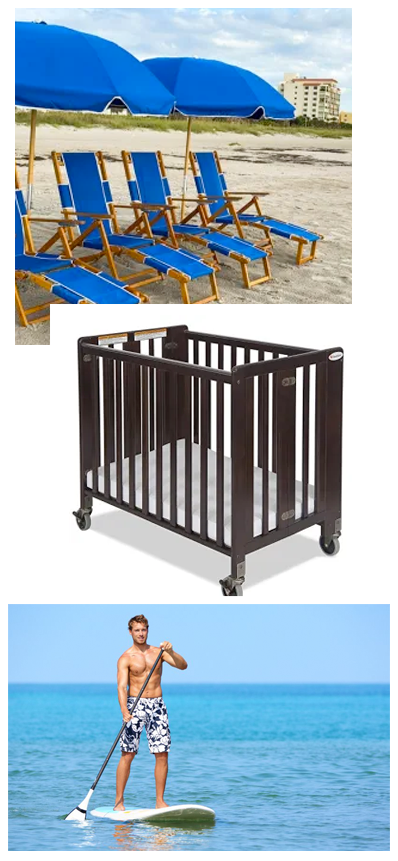 Welcome to
Coastal Rental Gear!
We have all your vacation gear needs for your family!
We have it all! Grills, bikes, beach chairs, umbrellas, kayaks, games and everything your traveling baby needs: cribs, strollers, car seats & more! Our products can be rented daily, weekly or whatever suits your needs.
We offer only top of the line products held to the highest standard in cleanliness and safety. Most importantly, Coastal Rental Gear believes in delivering only the best products to you. Also, anything we deliver must meet standards of quality and safety. We annually replace our beach rental equipment.
Save yourself the hassle of trying to pack all of the cumbersome items you need for your vacation. Cribs, strollers, beach chairs, and other cumbersome beach equipment take up far too much valuable travel space. Let Coastal Rental Gear handle the work for you. Customers of Coastal Rental Gear just have to simply relax and enjoy your vacation with family and friends.
For more information
Call us at 843-591-3479
or
email

[email protected]

.
We Serve
Surfside Beach, Garden City, Murrells Inlet, Pawleys Island and Litchfield Beach!
Check out our package deals!
We offer the best deals on the beach by offering an assortment of items for the best price for your vacation needs.